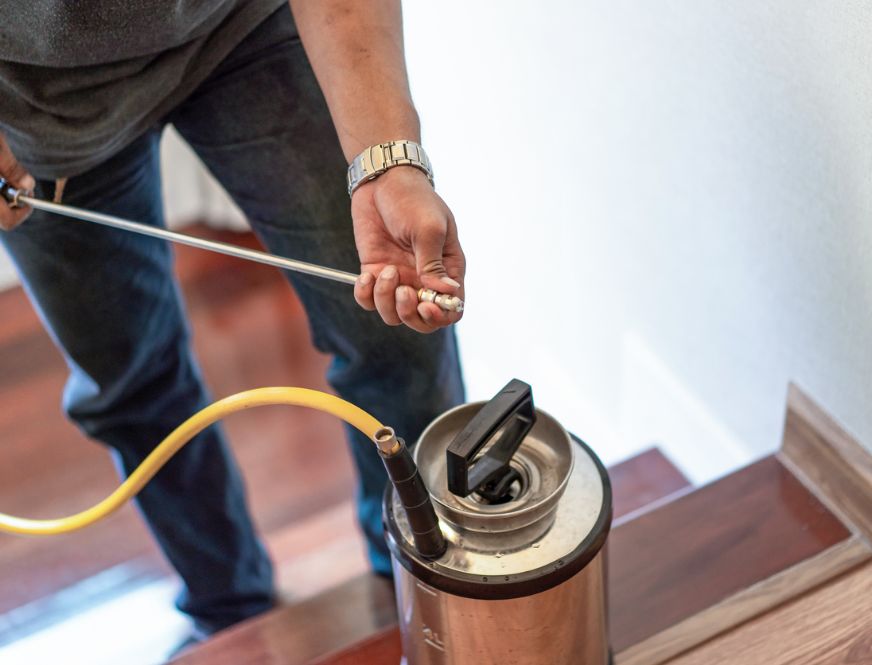 Going forward, businesses in the United States will be held to a higher standard of cleanliness. Your clients and employees will be paying close attention to what safety measures you are taking, and they'll want to know that your location has been thoroughly cleaned. Whether your business is open right now or not, getting a professional surface cleaning service is a smart investment. Pestech can help you keep your employees and clients safe, and we can protect your brand in the process.
Professional Disinfection Services
Although we recommend any and all businesses take precautions, this surface cleaning service will be most important for businesses that may have had COVID-19 exposure like:
Office buildings
Hospitals
Schools and Daycare Centers
Gyms
Supermarkets
Hotels
and any other location that may have come into contact with Coronavirus.
In addition, vehicles used in delivery services or other transportation purposes may be cleaned with our service, ensuring the safety of your staff and goods.
What Will Get Cleaned
Our team will clean almost any surface in your building that may have come in contact with Coronavirus.
This includes:
Walls
Desks and tables
Cabinets
Light switches & handles
Handrails
Storage containers
Floors
Other common surfaces
All precautions and product recommendations will be carefully followed to ensure proper cleaning.
Manage Pests from Your Vacant Building
Unfortunately, pests are unaffected by Coronavirus. When structures are quiet for long periods of time, clean or not, pests tend to move right in thinking they're safe harborage areas.
Even if you're still working at your business location- surrounding offices and buildings might not be. Surrounding vacant buildings will attract pests, and if you don't protect yourself, your building could be a target as well.
This can be easily mitigated with routine commercial pest control. Regular pest management can help to reduce the risk of pests in businesses and commercial environments.
We have found in the past month that many locations that we (thankfully) have under our protection are having massive pest pressure waves from surrounding structures.
Coming back to work to a perfectly clean, pest-free structure means you'll get back to business and normalcy faster.  Get a jump on your competition with Pestech today!
Residential Surface Cleaning Services
Pestech has revamped our surface cleaning services giving us the advantage when promising peace of mind amongst the pandemic. Using our new and unique solution that continuously cleans treated surfaces for up to 28 days, Pestech is able to clean almost any surface!
Common Household Pest Solutions:
Pestech technicians frequently see rodents, ticks, mosquitoes, bed bugs and termites creating problems for homeowners. Fortunately, Pestech is equipped with the knowledge and tools to control these pests both quickly and safely.
Rodent Control
Mice and rats can easily chew their way into homes through drywall, cracks in flooring and separated structures. Rodents are excellent at playing hide and seek, but they usually provide plenty of signs that they're living inside your home.
Signs of mice and rats will include:
Droppings
Bite marks
Urine smell
Nests
Activity in the night
Squeaking sounds
Grease marks
Based on the size of the infestation, Pestech will bait and trap and reduce entry points for rodents. In severe cases, our technicians can fumigate for rodent control using residential setting approved products.
Tick Control
Ticks serve as a nuisance for homeowners. These pests surface in the spring and attach to pets and loved ones for a source of food. Ticks suck the blood of animals and humans and may carry bacteria, viruses and parasites with serious health effects.
Before we spray your yard for ticks, take note that these insects can lay up to 3,000 eggs at once. You want to reach out to Pestech at the first sight of a tick, because there may be more burrowing in trees, grass, plants and woods surrounding your residence. Our seasonal tick treatment service is the key to eliminating these pests.
Mosquito Control
Mosquitoes thrive in damp environments across the state of New York and lay their eggs in still water. If your family is outside during the warmer months, an infestation results in bites that itch and swell. At Pestech, our mosquito treatments take effect in just 72 hours.
If mosquitoes move into your basement or backyard, turn to our services right away!
Bed Bug Control
Bed bugs are a homeowner's worst nightmare. The insects crawl their way into your home and survive in the creases of mattresses, furniture and carpeting to feed on you while you sleep. Bed bugs are unable to fly, but they can climb across walls, floors and ceilings.
Pestech targets the following areas when treating for bed bugs:
Under beds
Baseboards
Windows
Door frames
Closets
Bottom/sides of dressers
Headboards
If you suspect a bed bug infestation, Pestech services are in order.
Termite Control
A homeowner might mistake a termite for a population of ants, but the two insects are completely different. Termites visit your home for a food source and eat through walls, flooring and structures in no time at all.
Together, we can discover the location of a termite infestation. Then, Pestech technicians will install a baiting system around your home. Our baiting program draw foraging termites to a food source laced with a product which eliminates termite colonies. The termites will hit our bait before they hit your home!
We also offer wood protectant services guaranteed to prevent wood destroying insects from damaging your home any further.