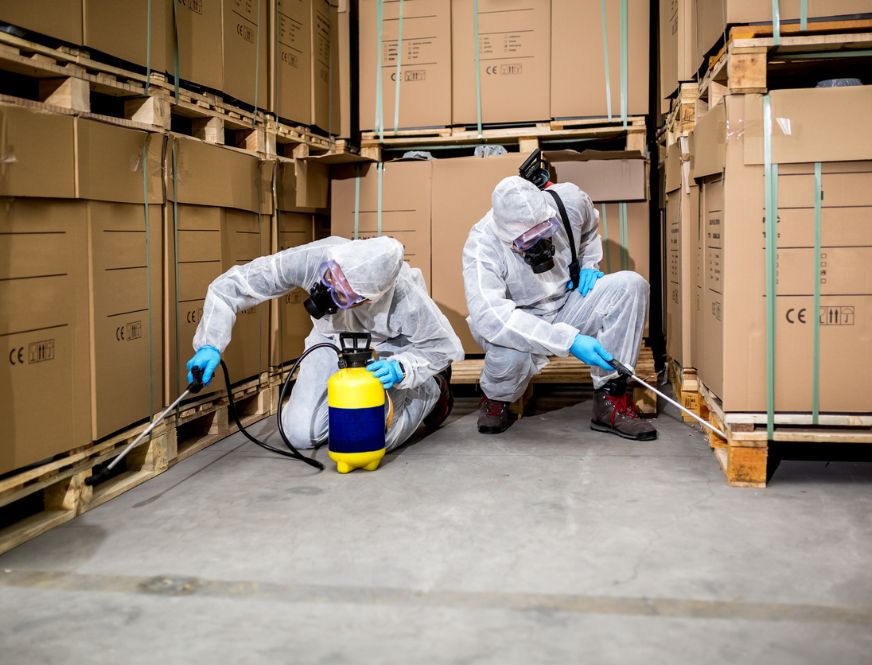 Commercial locations where perishable items are stored are prime spots for pest infestations. But you shouldn't have to worry about pests invading your space – that's what we're here for!
If your New York State business involves the storage of perishable items including food, feed, raw commodities, animal hides, natural-fiber textiles, synthetic textiles and more, you need Pestech New York commercial fumigation services.
We are the best in the business at providing tent, tape and seal, and vault fumigation services, and can help you resolve your pest problem without fail.
Fumigation is an extremely effective tool when folded into an existing preventative service. We'll put your mind at ease by getting pest populations back down to zero by eliminating all life stages in your infested products.
What Types of Pests Call for Fumigation?
Typically, the pests that infest stored commodities such as:
Meal moths
Warehouse beetles
Psocids
Grain beetles
Rice weevils
and more.
These pests ruin products by devouring them during their larval stage, costing your business thousands of dollars or more each year. Pestech's fumigations control all of these pests by eliminating them wherever they hide.
Commercial Fumigation Process
Fumigation services are necessary when conventional pest control alone isn't enough to get the job done. Luckily, Pestech's certified and licensed technicians are prepared for the following fumigation solutions:
Tenting
Quarantine and pre-shipment fumigation
Food processing and storage fumigation
Structural fumigation
Container fumigation
Silo fumigation
Rail car fumigation
Commodity fumigation
When you contact Pestech for commercial fumigation services, we will start by performing a thorough investigation of your location. We will then give you the best treatment options so you can decide how you want to proceed. We will fumigate to get rid of most pests. Within 72 hours, your pest problem will be totally controlled.
How Safe Are Pestech Fumigation Services for Storage and Export Containers?
Pestech takes safety very seriously. As with all of our services, Pestech goes above and beyond all state and federal regulations and adheres to the highest possible standard of safety.
When you use Pestech commercial fumigation services in New York, you can be completely confident that you are enjoying safer pest control. We are 7b-certified to perform fumigations and only perform fumigations where and when we believe it is reasonably safe to do so.
We will inform you beforehand of anything you might perceive as dangerous and let you know how you can prepare for it. We only employ qualified professionals who understand safe fumigation and pest control at the highest level.
Contact Pestech Pest Solutions for Complete Commercial Pest Control in NY Today
Pestech is a family-owned and operated pest control business that has been handling the pest control needs of New York homes and businesses for over 30 years. Over that time, we have grown in pest control locations, number of technicians, our understanding of pest control and our tools for providing you with the best possible pest control and fumigation services.
Locations in Ferndale, NY and Wappingers Falls, NY.
We have no call centers and we give each client our personal attention. You will always have an account manager to contact who can answer any questions about the fumigation process.
If your business is suffering from termites, flies, roaches or other pests, don't delay. Pest infestations are unsanitary, costly and bad for your company's reputation. We can take care of the problem now. Call us Now or contact us online to schedule an inspection today.